Victoria Construction Accident Lawyers
Representing Workers and Pedestrians Injured in Construction Accidents Throughout Texas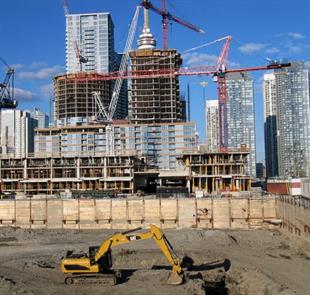 Construction sites can be dangerous for not only workers but also the pedestrians that find themselves walking nearby. Falling debris, unsafe conditions, and heavy machinery are often to blame for accidents. Construction sites are one of the top industries with the most worker injuries and fatalities. According to statistics given by OSHA, in the year 2018 construction deaths made up 21% of worker fatalities in private industry. Whether you are a construction worker or a bystander, if you have been injured at a construction site, allow our Victoria construction accident attorneys at Cole, Cole, Easley & Sciba, P.C. to provide you with the legal counsel you need when pursuing a construction accident lawsuit.
For a free consultation, please give our construction accident attorneys in Victoria a call today at (361) 678-3233. We can help you obtain compensation for your construction worker injuries.
Preparing for the Future
Due to the presence of heavy machinery and other hazards, those injured at construction sites often sustain serious or catastrophic harm that greatly impacts their lives. Victims may require extended medical care that will pull from their savings, in addition to losing wages while they are recovering and are unable to work. Our attorneys understand the challenges that victims face, which is why we work hard to help you recover the compensation that you need.
Construction Site Accident Examples
There are a variety of different injuries that can occur in construction accidents, many of which can affect you for the rest of your life. Common injuries sustained on construction sites include:
Traumatic brain injury
Head and neck trauma
Bruising
Lacerations
Hearing and vision damage
Bone fractures
Sprains and strains
Nerve damage
Chemical burns
Electrocution injuries
Proving Negligence As the Cause of Your Accident
According to OSHA, violation of proper construction site standards is often the cause of the above-mentioned injuries. These standards are put in place for the protection of workers and pedestrians, so when they are violated they can have catastrophic results. If you believe your injury was caused as a result of negligence, you may have grounds for a personal injury claim. Some common examples of negligence in construction include:
Failure to maintain proper fall protection
Failure to follow standards regarding scaffolding, ladders, machinery usage, and eye and face protection
Failure to maintain proper control of hazardous energy, as well as provide proper respiratory protection
Failure to clearly communicate certain hazards that may be present on the site
Workers' Compensation & Construction Accident Settlements in Texas
While in other states employers are legally required to carry workers' compensation insurance, the state of Texas does not place such a requirement on businesses. Upon having been hired, your employer should have notified you if they carried this type of insurance. If your employer does have workers' compensation insurance, you may be entitled to compensation for injuries sustained while at work through a personal injury claim. In addition, you may be owed compensation from third-party manufacturers in the case of defective or dangerous machinery, or premises liability compensation when adequate warning or precautions were not taken.
Contact our construction accident lawyers in Victoria following your injury to learn about your legal rights. For more information call (361) 678-3233 or contact us online.